Hyper Trick School by Dan Perez is now available for pre-order in the Hyper Shop. Hyper teamed up with Dan Perez & top trickers worldwide to inspire a generation of tricking athletes rooted in authenticity, creativity, true understanding and execution of perfect martial arts tricking techniques. Take advantage of the Launch Special Set. Pre-orders will be shipped on August 1, 2014.
Tokyo plays host to one of the most stacked kickboxing cards in years, a fitting end to 2013 in a place that helped launch the sport of kickboxing.

Check out this Raymond Daniels Pre Fight Interview. We're excited to see Raymond's cross over from Sport Karate into Kickboxing and taking it full on!


Hi Everyone,
It has been several months since I have posted anything to the blog.  I've been thinking a lot about the importance of setting goals and following through with them.

I set a goal in 2010 of landing a double cork.  I had my single cork down really well and was able to do boxcutters, double fulls out of a cartwheel and double fulls out of a round-off.  It was time to push my abilities and apply my double twists to my corkscrew.  My very first weekend I attempted double cork I landed 3 but they were terrible and were probably cheated in some way.  I didn't film them since I didn't expect to land them at all.  Unfortunately After that initial weekend I was no longer able to land them anymore.  I added them to my list of tricks to practice and I kept trying to improve them each and every time.  Pretty soon I was able to land them fully rotated and then fully rotated and on my feet.  By late 2010 I had landed it but not without briefly putting one hand down.

It would have been easy to stop there or back off but I didn't.  In December of 2010 I technically landed my first double cork but again my hand only barely missed touching the floor and it was off balance.  I wanted to land it completely solid and I really wanted to land it with others at a large gathering.

In January 2011 I had a setback due to a fractured foot.  I didn't know it was fractured at first but knew something was wrong with it. After getting my walking boot off I just taped it up and continued to compete and trick but I was not able to really practice my double cork until a couple months later.

Finally at Loopkicks Camp 2011 it all came together and I landed what I considered a clean double cork.  The feeling after months and months of practice is indescribable!!  The icing on the cake was doing it in front of my friends and some of the most respected trickers in the world. (Check out the Video Here)

Sometimes when a goal takes a long time to accomplish it is difficult to see the daily progress.  We have to break our goals down into smaller goals and take each step as a victory on our way to our ultimate goal.  This is not an easy thing to always do but sometimes it is the only way.  Keep dreaming and pushing your abilities and setting your goals and whatever you do… "NEVER GIVE UP!"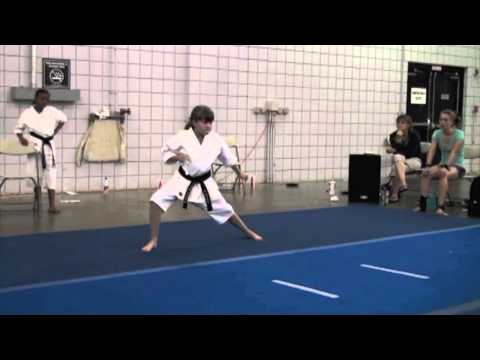 NEW ENGLAND OPEN
June 3rd & 4th, 2011
Marlborough, MA the world's greatest sport karate competitors will compete at the
2011 New England Open.
Youth Professional Divisions, WAKO style fighting and much more!
Check out their Website and good luck!
Ken Warner compiled Team 100 Percent's Tribute to 2011 NASKA Competitors in this new video. We are excited to see many of the Hyper Pros make the video as well as many other Top Martial Arts Athletes and up and coming stars!
Check out more from Ken Warner on his youtube channel ZenInc
Log into Hyper Online Training and get access to Hyper Pro Austin Crain's Kicks, Tricks & Combos. Plus download his weekly training challenge and create some combos of your own.
Austin breaks down each of these kicks:
Plus these combination:
You asked for it, and now we're giving it to you. Introducing the brand new Hyper Store! Get all the great apparel and accessories the Hyper Pros wear. Designed for martial artists who've longed for clothing that represents their sport, Hyper Apparel is a martial arts lifestyle brand that elevates the martial arts to the level other action sports. It's your chance to represent your sport at your martial arts school, and on the street.
We've also got new martial arts training DVDs available. Train along with you favorite Hyper Pro as they teach you all the techniques you need to pull off the most exciting martial arts techniques. Keep checking back as we'll be adding new titles all the time.
So check out the new store and take advantage of our opening weekend sale:
Buy two shirts and get a DVD free!
OR
Buy two DVDs and get a shirt free!
And as always, we welcome your feedback. If you have any questions or suggestions on products we should carry, feel free to send us an email at info@hypermartialarts.com.
It's the Monday after AKA Grand Nationals in Kentucky, and I had a great time. Â I came home with 3rds in traditional weapons and team sync, 2nd in creative weapons and 1sts in musical and creative forms. :D Â I am happy with how I placed. Â I got to see all of my friends from the circuit and Michael Guthrie (2nd person ever to triple cork), and my good friend I haven't seen in three years.
Looking forward to the US OPEN coming up!  Hope to see you all soon  :)
[youtube]http://www.youtube.com/watch?v=CumegwR9EM4[/youtube]