We are excited to announce Hyper Pro Athletes Mackensi Emory and Tyler Weaver's brand new TEAM SYNC TRAINING DVD is now available!
The only thing better than training martial arts is training with your friends!
Hyper Team Sync Forms Training with Mackensi Emory & Tyler Weaver is designed for Martial Arts Athletes that are looking for a dynamic form for competitions and performance events. You will learn Team Sync choreography, kicks, tricks and a complete form.
Check out the Quarter Finals Round 2: Andy Le vs Andrew Franklin


The Hyper Pro Training Worldwide Team is excited to welcome Warrior Sport Martial Arts of South Africa to Team of Schools. Hyper's Mission is to team up with the best schools in each community around the world and inspire the next generation of Martial Arts Athletes.

Have you or your school joined the Martial Arts Athlete Movement?

Instructors click here for more info

Students Nominate your school by emailing us here
Martial Arts Athlete Seth Haber marks an important turning point for sport martial arts competition. 2003 was the last year of the "open" division on the NASKA (North American Sport Karate Association) circuit. Prior to today's 'extreme' and 'creative' divisions, the open division was an 'anything goes' freestyle division that allowed forms with tricks to compete with non-trick forms. As martial arts tricks became more prominent in forms competition, those who did not throw tricks in their form seemed to always be at a disadvantage, unless your name was Seth Haber. Seth was one of the only competitors of the time who was able to go toe to toe against the best 'tricking' forms competitors. Watch one of Seth's best forms from Diamond Nationals in 2003.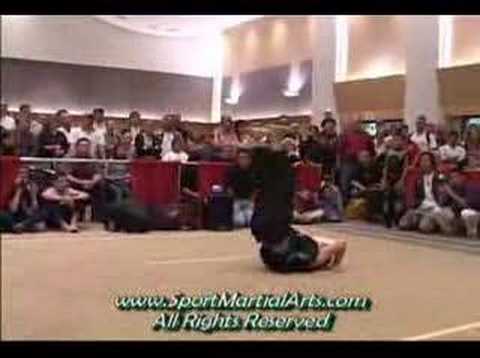 DID YOU KNOW?
When NASKA was making the decisions on how to split creative and extreme divisions, there was a lot of controversy whether the '540′ would be allowed in the creative division. The creative division only allows '360 degree' spinning techniques, and despite for the kick's name '540′, the mechanics behind the technique only call for a 360 degree in air rotation. Although parafusos and tornado kicks landing on two feet involve the same amount of rotation, the 540 kick alone has been banned from this division. Check out Seth's perfect 540 beginning at 21 seconds.
The Hyper Games Return to Ontario, California
February 22nd, 2014 | COMPETE NATIONALS

Includes
- Beginner and Pro Level Events
- Athlete Training Workshops
-Cash Prizes – Hyper Awards & More!

Hyper Pro Athlete Seminar
**Included FREE with Registration**

An incredible experience to train with Hyper Athletes and learn their favorite kicks and combinations. Plus kick back after the seminar with your friends and get to meet each of the Pros and get their autographs.
——————————————————————————