HYPER GAMES -COMPETE NATIONALS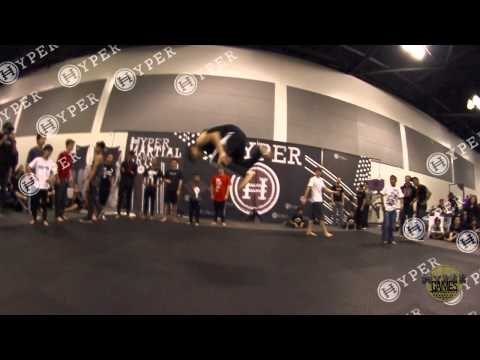 The Hyper Games & Kick Challenge at Compete Nationals were crazy. Over 125 athletes from as far as New York competed for the Kick Challenge Titles and the Hyper Wood Medallion.
The Amateur  3 Person Trick battles had amazing energy, 10 teams from California trained hard and impressed the crowd with their combos. For many of the them this was their first experience in a Trick battle, but they took it on like pros!
The Pro Battles Kicked off with the ONE on ONE division being swept by Team Emig's Aidan Considine.
The Pro Team Battles were a show case of where the art of Tricking is headed. Both Teams Sensei Stash (Jordan Okubo, Cody Sanders, Keenan Carr) & The 3 Niños (Jacob Pinto, Donovan Sheehan, Andrew Franklin) threw down tricks and combos hard and went all out. The next generation of Athletes is emerging and their future is bright. Tricking Coaches Daniel Graham and Anis Cheurfa held down the corner for the 3 Niños who took the win for the Pro Team Division. The Judges (Micah Karns, Tyler Weaver, Kyle Cordova, Austin Crain and Jake Strickland) all agreed it was a close contest.
We're looking forward to the Next Round of Hyper Games Battles in Philadelphia at Amerikick Internationals March 23rd. Get Ready!
HYPER GAMES PRO TEAM TRICK BATTLE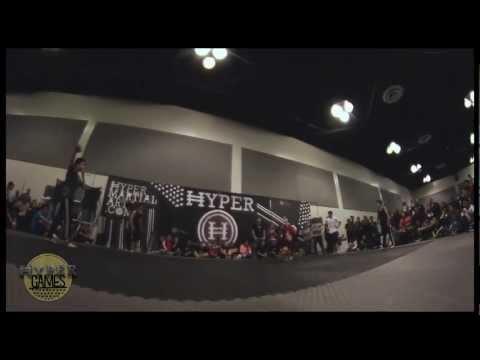 Check out Photos from the Event on Instagram #HyperGames

HYPER PRO CAMP HIGHLIGHT REEL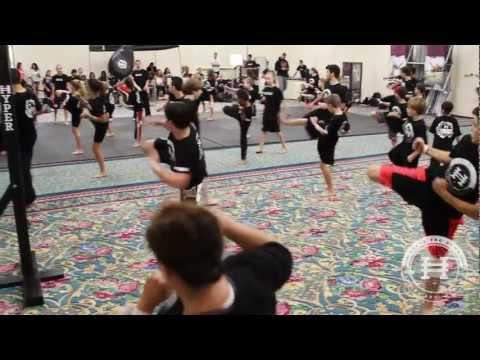 We had a killer time  training with athletes from all over the world last year at Hyper Pro Camp in San Diego. Check out some of the highlights above and make sure to get tickets to this year's event.
Hyper Pro Camp & Competition Experience
at AKA American Open
Take your martial arts training and style to the next level. Train with Pro Athletes and friends all weekend. Get your own Hyper Pro Photo Shoot. Be part our new Hyper Documentary. Learn the Newest Forms, Weapons and Tricking Combinations. Includes Competition Fees to Tournament, Hyper Games and a Hyper Camp Swag Bag.
This Camp is for ALL LEVELS & Ages


Master Kenwa Mabuni was born in Shuri, Okinawa into the Onigusukini samurai family in 1889. To overcome poor health, Mabuni trained intensely in

Karate at the age of 13. He had the privilege of being mentored by two of the greatest masters of that time – Ankoh Itosu in Shuri-Te and Kanryo Higshiaonna in Naha-Te. Mabuni eventually combined the two styles to form Shito-Ryu.

Through Ankoh Itosu, Mabuni learned the famous Pinan katas, Naihanchi, Chinto, Gojushiho, Bassai and the Itosu version of Kusanku. While studying with Itosu, Mabuni's contemporaries was like a who's who list of Karate greatest masters – Gichin Funakoshi (founder of Shotokan), Chotoku Kyan (founder of Shobayashi Shorin-Ryu) and Chosin Chibana (founder of Kobayashi Shorin-Ryu) were some of the masters who shared the dojo floor with Mabuni.

During his years of studying karate, it was his close friend Chojun Miyagi (founder of Goju Ryu) who introduced him to Kanryo Higaonna. It was through Higashionna that Mabuni learned Naha-Te (now Goju-Ryu) kata such as Kururunfa, Suparinpei, Seiunchin, Sanchin and Tensho. By combining the soft and circular motions of Naha-Te with the more linear and direct moves of Shuri-Te, Mabuni created Shito-Ryu – named after his two teachers Higashionna ("Shi") and Itosu ("ito"). Shito-Ryu is a style which shows the diverse roots of Karate. It is extremely fast but its intricate details in kata make it artistic and the various stances and use of hip rotation make it very powerful.

Cross-training in multiple styles nowadays is relatively the norm rather than the exception and Mabuni is credited as one of the first masters to train in various styles with many of Karate's famous masters. Mabuni was always seeking knowledge in the arts and was an avid kata collector. In addition to Higashionna and Itosu, Mabuni also studied Fujian White Crane Fist with Chinese tea merchant Go Kenki. It is said that Go Kenki's influence was responsible for the creation of the Shito-Ryu version of Nipaipo – one of several "trending" katas in Sport Karate. For a brief period of time, Mabuni also studied with Seisho Aragaki and various sources say that it was through Aragaki that Mabuni learned the kata Unshu (which eventually was incorporated into Shotokan as 'Unsu').

In an effort to make Karate more popular in mainland China, Mabuni made numerous trips to Tokyo n 1917 and 1928. During this time, most Karate was taught in secrecy but it was Mabuni's opinion that it should be taught with honesty and integrity. Mabuni alongside masters who shared the same vision, he aligned himself with his dojo mate, Gichin Funakoshi and spread the art of Karate in the 1920′s. After Ankoh Itosu's death in 1915, Mabuni taught other prominent Karate figures who were students of Itosu including Hironori Ohtsuka (founder of Wado-Ryu) and Yasuhiro Konishi (founder of Shindo Jinen-Ryu). In fact, Funakoshi himself did many of his fine-tuning in kata through Mabuni. With the support of one of his top students, Ryusho Sakagami (who is the instructor of American Karate pioneer Fumio Demura), Mabuni opened up many Shito-Ryu dojo in Osaka, Japan.

Mabuni, in modern times, would be like a "Wikipedia of Kata" and many sought his expertise in different kata, its theoretical applications (bunkai) and its history. Many of Karate's founders and masters would consult Mabuni for any inquiries about kata and masters such as Funakoshi would send their students to Mabuni to learn new kata. Because of Mabuni's comprehensive knowledge of kata, Shito-Ryu has the largest kata syllabus of all Karate styles with over 50 kata stemming from Shorin-Ryu and Goju-Ryu foundation. Mabuni also created three kata practiced only in Shito-Ryu – Juroku, Aoyagi and Shinpa.

Master Mabuni died in 1952 and was succeeded by his sons Kenei and Kenzo. The inheritance of Shito-Ryu is shrouded in controversy as there was a dispute between his two sons. Because of this, there are two main sects of Shito-Ryu – Seito Shito-Ryu (which is now headed by Kenzo Mabuni's daughter after his death in 2005) and Shito-Kai (headed by Kenei Mabuni).

To this day, Mabuni's Shito-Ryu is one of the widely practiced styles in the world along with Shotokan, Goju-Ryu and Wado-Ryu. Its immense popularity is due to the increased number of competitors performing Shito-Ryu katas in Sport Karate competition. Its intricate techniques make it very artistic in nature and captures the eyes of the audience and judges. Notable WKF World Champions include 2012 Champions Antonio Diaz and Rika Usami – both study Shito-Ryu under Sensei Yoshimi Inoue of Japan.
Keiko Fukuda was a Japanese-born American martial artist. She was the highest-ranked female judoka in history, holding the rank of 9th dan from the Kodokan and the United States Judo Federation (USJF), and 10th dan from USA Judo, and was the last surviving student of Kanō Jigorō, founder of judo. As the granddaughter of a samurai, martial arts was in her blood. She was a renowned pioneer of women's judo, being the first woman promoted to 6th dan in 1972, and later 9th dan in 2006, by the Kodokan. She is also the first and, so far, only woman to have been promoted to 10th dan in the art. After completing her formal education in Japan, Fukuda visited the United States of America to teach in the 1950s and 1960s, and eventually settled there.

Standing just 4'11″ and weighing less than 100 lbs., Keiko overcame many obstacles in her career, both physically and politically. Keiko fought for women's equality in all martial arts in Japan and the United States and laid the groundwork for future generations. Her work is a central reason why women are allowed to be promoted and compete on the same level as men around the world in all martial arts. She continued to teach her art in the San Francisco Bay Area until her death at the age of 99 in 2013.

福田 敬子, Keiko Fukuda, April 12, 1913 – February 9, 2013

Sammy Smith has trained in the martial arts over 10 years and is a black belt from New York. She has crushed multiple competition forms and weapons grand champion records and continues to be the leading female double nunchuck competitor.
Her innovative weapons tricks, clean basics and high-level kick combos keep her performances respected and exciting to watch. Her daily training sessions and attention to detail keep her constantly evolving. Sammy's teaching skills and commitment to give back makes Sammy a cool martial arts athlete.

We are excited to have Sammy as a Hyper Pro Athlete. Look for her new Training Sessions & Weapons Training DVDs coming soon!

Check out her latest video: What Inspires You? on Hyper TV
One of the most "trending" katas in both Open and Traditional Karate circuits is the kata Annan. Its obscure techniques and its mixed tempo and rhythm is the preferred kata of many of the sport's elite competitors due to its dynamic nature.

The origins of the kata are still a mystery as it only surface to the public eye in the late 1980′s by World Kata Champion from Japan, Tsuguo Sakumoto – 9th Dan Hanshi, Ryuei-Ryu. While most competitors executed the more popular kata stemming from styles such as Goju-Ryu and Shotokan, the unique looking kata captured the eyes of the audience and other competitors due to it's various complex hand techniques precisely executed by Sakumoto. It was this kata which won him 3 consecutive Kata titles with WUKO during his competitive years.

The origin of the kata and its creater is anonymous although many assumptions lead to Chinese origins. However, one thing seems to remain certain – the kata spread through practitioners of the Okinawan style called Ryuei-Ryu. Like the kata, the style itself has only been known to the general public in the last 30 years as the style has been kept in family lines until recently. It has been said that Ryuei-Ryu founder, Norisato Nakaima (instructor to Sakumoto) brought the kata to Naha, Okinawa after learning it during his travels to China. It is said that he learned this kata from a master named Ryu Ro Ko (who has also been linked to teaching Goju-Ryu karate founder, Chojun Miyagi).

Besides being extremely intricate in technique, the application of the movements present deadly blows within short distances and exhibit immobilization and contol of the opponent.

At the present time, the version shown on the tournament scene is one which was adopted in the Shito-Ryu style. Teruo Hayashi is credited for incorporating this beautiful kata into the Shito-Ryu kata curriculum.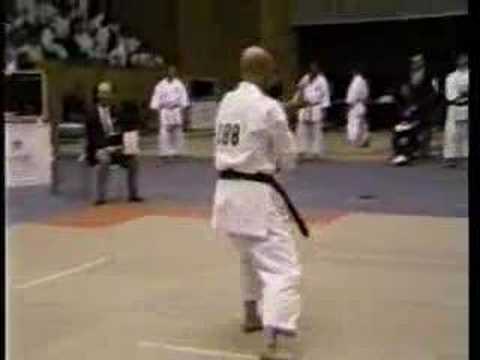 This video is kata Annan performed by Master Tsuguo Sakumoto, 3-Time World Kata Champion (1984, 1986, 1988) and co-holder of the Guiness Book of World Records for Most World Kata titles by a Male competitor (shared with Luca Valdesi [Italy] and the late Michael Milon [France])




This video is the bunkai (theoretical application) of the kata performed by the Female Japan National Team (coached by Sakumoto).