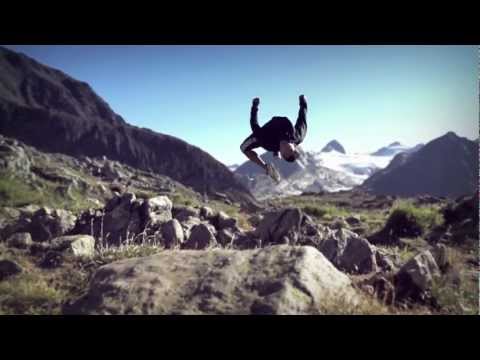 We're always looking for creative ways people are catching Tricking on film and we were excited to see the latest video from the Swiss Tricks crew. Not only did they hit up some crazy spots in switzerland last summer they shot the entire sampler in 400 frames per second. So seeing the kicks, tricks and combos in slow motion made our top video list this week.

We caught up with Swiss Tricks Member Micha Hurni to find out a little more about how he got started Tricking and the back story on their crew.
————————
Hi I'm Micha Hurni, I'm 33 years old and live in Berne, Switzerland.
Hyper: When did you start tricking?
Micha: I started tricking back in 1997 after seeing a Performance on TV of the "good old" West Coast Action Team in Paris. Yes, it seems like a long time ago, I might be a tricking dinosaur. Ha!

Hyper: Do you have a Traditional Martial Arts Background?
Micha: Yes, my Martial Arts background is Taekwondo which I trained from 1991 to 2006.
Now my style is Mashed up with some capoeira, breakdance, Wushu, and Freestyle.

Hyper: Tell us about your Crew "SwissTricks"
Micha: Swisstricks is a martial arts acrobatics show team from Berne, Switzerland, consisting of martial artists, as well as freestyle artists. The team combines various martial arts and break dance styles elements with acrobatics. We combine all of these elements and  wrap them up in an explosive performance show and and add in a hint of humor. Since the about 2003, we have been doing shows around  Switzerland and abroad.
We all share the passion of Tricking, and enjoy all the moments we can travel and perform together. We're really like a small family!

Hyper: That's awesome glad to hear you are all passionate about what you do. So you probably had fun shooting this video while getting to travel this summer?
Micha: Yea, this Video was mainly Shot during a 7 Days Trip with two friends through Switzerland in August.
It's the first part of 3 Tricking-Movie Projects we planned to do during these days.

Hyper: What type of Camera did you use for it?
Micha: We shot it with the a Sony FS700 and shot it 400 frames per second.

Hyper: Anything final words?
Micha: Enjoy the video, we really tried to capture the beauty and variety of this country, and tricking of course. Don't try this at home! Come to Switzerland instead!  Oh, and try to ignore the facial expressions in the video. Ha!
————-

Song used: Florence And The Machine – Cosmic Love (Seven Lions Remix)
Seven Lions:
Florence + The Machine:

SWISS TRICKS
Website: www.swisstricks.com
Facebook Page