As many of you know I haven't been on the NASKA curcuit much over the last year since I have been focussing on school. This year is my senior year and I am starting to apply for colleges plus I already have AP literature homework. School has definitely the number one priority. I am working and teaching more at the karate school, and starting to train a little bit more again as well. I am so happy I am able to get back into karate after recovering from an ankle injury last year.

Working with the Infinity Team has been great! We have been doing a lot of mental prep for the tournaments which really seemed to help us relax and know in our minds exactly how we should perform. Mike Welch, our coach and the owner of Infinity Martial Arts, has really helped us go to the next level in the martial arts. He brings the best out of us at every practice and inspires us to be our best and reach for our goals.

We are like family, and work at 150% at every practice! We have been training really hard and completed our big goal for the year, winning on stage at the ISKA US Open in Orlando.

This was a big win for us as a team and really reflected how hard we have practiced and how much we really wanted to show the world who we are! …TEAM INFINITY!

Catch the Video of Team Infinity's Win at the USOPEN on ESPN3 Replay Here: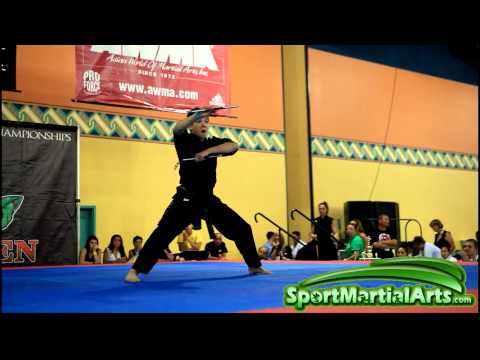 WOW! What a summer just got back from us open was a huge battle since I have been competing in three different circuits: NASKA, NBL & ATA. In Orlando I had a three way tie for first for my weapons division and a double tie for the grands, I ended up winning overall for the wild card spot on ESPN.

Today I will be filming a movie trailer and will have sneak peek pics soon so stay tuned.

Tomorrow I will be leaving for Texas for a NBL seminar. Hit me up if anyone wants to come out and train. Post a message on the Hyper FaceBook page.

A quick recap from my trip to Little Rock Arkansas last month for ATA World Championships. After winning on stage our Demo Team won and Paige Bantum and I will be featured on ESPN3 in October.

It's been an awesome summer so far. Plus I'm looking forward to seeing everyone at Hyper Pro Camp before the AKA American Open in Sandiego.